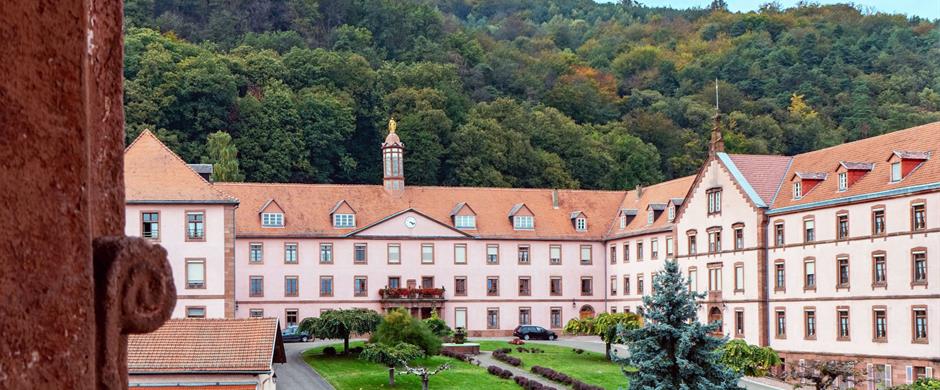 Hôtellerie du Couvent -
Oberbronn
It is in the picturesque village of Oberbronn, labelled as a Green Station, that the « Maison des Sœurs du Très-Saint-Sauveur » welcomes you alone, with your family, in groups or for your seminars.
It has a large reception capacity, many spaces and work rooms.
An ideal place to rest, relax, breathe, recharge your batteries, meditate, get together with others, or just be there!
A true haven of peace and serenity, the Convent offers you an unforgettable experience, in a beautiful green setting, with its park, its wide open spaces and its surrounding forest.
2 rue principale
67110 Oberbronn

Tél : 03 88 80 84 50 Tél : 03 88 80 84 59
Fax : 03 88 80 84 70
Description

Services

For children

Prices
Description
Equipements et services vélos: Garage à vélos fermé, Transport des bagages à l'hébergement d'étape suivant (vélo/VTT) payant, Outils à disposition (pompe à pied, rustines, démonte-pneus, clés anglaises et à six pans), Moyens ou local de séchage des vêtements et équipements, Moyens ou local de lavage des vêtements et équipements, Prise pour recharge de batterie
Accomodation capacity: Capacité en chambres : 57
Nombre de lits : 90
Location: At the edge of the forest
Nearest train station: 3
Accessibility: Through a small sealed road, On a route that is accessible by bus
Services
External facilities of the accommodation: Private garden, Closed garden, Closed courtyard
Leisure activities equipement: Table tennis table
Practical services: Group reception, Shops /Sale of goods, Sheets included in the rental price, Bathroom linen, Beds made on arrival, Free sponge towels, Local tourist information, Open to individual clients, Packed lunch, Luggage transport (pedestrian) free of charge, Customer and luggage transport from the station for a charge
Comfort accommodation: Fitted kitchen area, Coffee machine, Fridge, Iron, Lift, Character room, Seminar/meeting room, Hairdrier
Internet access: Network connection, Free wi-fi
Bathroom facilities: Number of restrooms (private) with shower : 55
Number of restrooms (private) with bathtub : 2
No. of toilets in bathrooms : 57
Catering on spot: Yes, Food for groups, Food for individuals
Practical services, restaurants: Continental breakfast, Lunch buffet, Dinner buffet, Packed lunch, Group reception, Orchestra, Caterer and banquet organiser
For children
Kid's services: Highchair
Discounted rates: 3 yearsfrom 3 to 16 years
Prices
Visitors' tax: In addition
Tourism tax per person and per night: 5% par personne et par nuitée, plafonné à 2,30€
Methods of payment: Credit card, Cash, Transfer
Discounted rates: Special offers : Package 7 days
Other special offers : Special offers for groups
Gîtes/refuge rates in €: Min. full board : 63,50 €
Max. full board : 65 €
Min. half board : 50,50 €
Max. half-board : 51 €
Min. per night : 37,50 €
Max. per night : 39,50 €
Utilisez le menu ci-dessus pour retrouver tous les itinéraires, les hébergements, les lieux de restauration, les activités et services à proximité.
Retrouvez
toute l'information touristique
sur www.visit.alsace