MUSEUM OF ALSATIAN VINEYARDS AND WINE
MUSEUM OF ALSATIAN VINEYARDS AND WINE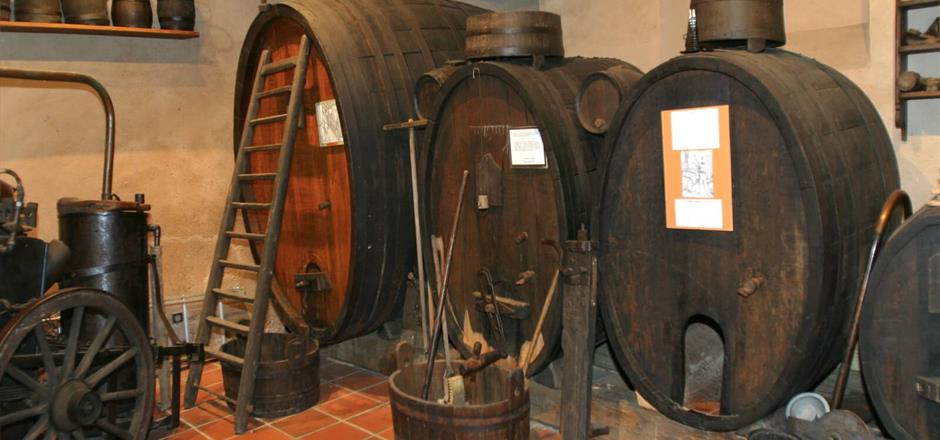 Museum of Alsatian vineyards and wine -
Kaysersberg Vignoble
It is within the castle of the Saint-Etienne brotherhood that the Museum of the vineyard and wines of Alsace is located, in the commune of Kientzheim. In the heart of the Alsatian vineyard, visitors will have the opportunity to discover all the stages of traditional wine making. A true tribute to the winegrowers of the past, the Museum wants to transmit knowledge and offers guided tours to learn more about the wine world.
1 Grand'Rue
Kientzheim
68240 Kaysersberg Vignoble

Description

Prestations

Opening days
Description
Animals accepted: Yes
Length of visit/event: 1h
Size of group: Maxi : 40
Enfants (âges) concernés: 7-12 years, 13-18 years
Languages spoken: French, German, English
Audience concerned: Adults (individuals), Families, Groups, Schools
Themes: Arts et traditions populaires, Ethnography, Science and technology
Type of site to visit: Museum and planetarium
Prestations
Acrivité en :: indoor
Facilities: Toilets
Package visits offered: Free visit, Visit with educational sheets/pack, Guided tour for groups with reservation
Practical services (museums): Shop
Practical services: Group reception
Stationnement pour véhicules: Free parking for cars, Coach parking
Opening days
Opening hours: Weekends and bank holidays in May and daily 12th June to 20th October. From 10 am to 12 pm and 3 to 6 pm. Group visits upon request throughout the year.
Utilisez le menu ci-dessus pour retrouver tous les itinéraires, les hébergements, les lieux de restauration, les activités et services à proximité.
Retrouvez
toute l'information touristique
sur www.visit.alsace