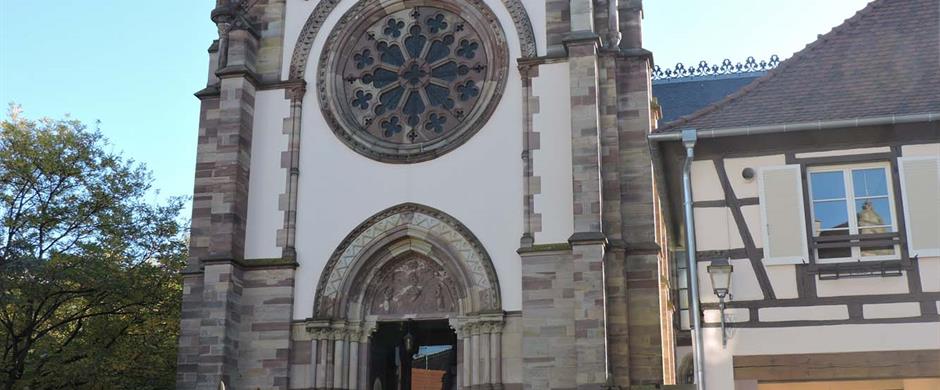 Chapel of our Lady -
Molsheim
In the wake of the French Revolution, the buildings of the former Jesuit School were transformed into a senatorial estate, managed by Marshal François-Christophe Kellermann, Duke of Valmy. Then, from 1827 to 1834, Bishop Le Pappe de Trévern established his "Petite Sorbonne" here.

A couple of years later, in 1836, the Canonesses Regular of St. Augustine came to Molsheim from Dieuze (in Moselle) to open a boarding school: the Convent of Our Lady. For more than a century, they dedicated their lives to educating the young girls of the area, until the establishment closed down in 1954.

Created by an architect from Lorraine, Léon Vautrin, the Neo-Gothic Chapel of the Canonesses (1864-1867) is devoted to the Sacred Heart. It is a sight to behold, with its neo-medieval architecture, cross-shaped layout, front gate columns and great stained glass windows on the facade and transept. After years of neglect, it was given back to the Church in 1984, thanks to the association of "The Friends of the Chapel of Our Lady".

On the former grounds of the boarding school remains an oratory, previously known as the "Children's Chapel of St. Mary".
Rue Notre-Dame
67120 Molsheim

Utilisez le menu ci-dessus pour retrouver tous les itinéraires, les hébergements, les lieux de restauration, les activités et services à proximité.
Retrouvez
toute l'information touristique
sur www.visit.alsace